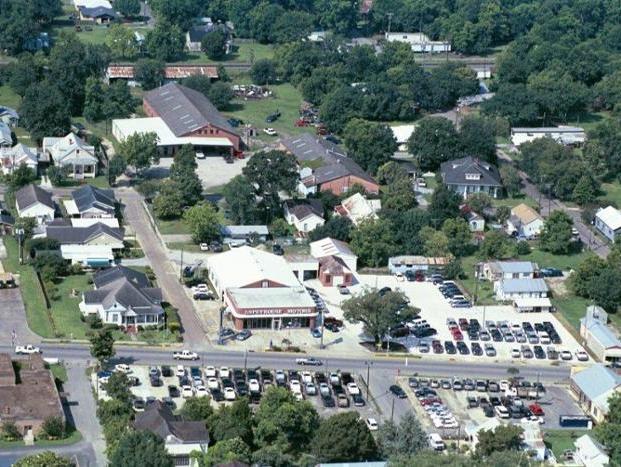 Lapeyrouse Motors has served South Louisiana for over 88 years!
We would like to thank you for visiting our website and considering us for the purchase of your next new or pre-owned vehicle. It is our goal to provide you with an excellent purchase and ownership experience. 
Let us introduce you to our staff, show you some of our special vehicle offers, and take you through our complete line of new and pre-owned inventory. We can help you find exactly what you are looking for. Read a little about our history below:
A LITTLE ABOUT OUR HISTORY
Lapeyrouse Motors was founded over 88 years ago, in the midst of the Great Depression, by J.P. and Elma Lapeyrouse. Originally home to only a few cars and a few employees, the dealership has grown to 7 acres with a staff of more than 20 at a facility in downtown Jeanerette. J.P. Lapeyrouse, Sr. came to Jeanerette from Montegut, LA with the U.S. Army Corp of Engineers to assist in the dredging of the Bayou Teche in the wake of the flood of 1927. After moving to Jeanerette, he met his future wife Elma Bergeron, whose background in accounting complemented his background in mechanics. The first new car sold was a 1934 Chrysler Deluxe Sedan for $970. Lapeyrouse Motors has prospered and persevered through the years thanks to many greatly appreciated customers and loyal employees. The dealership celebrated its 88th anniversary in February of 2022, and looks forward to the opportunity to serve South Louisiana in the future.
The youngest of J.P. and Elma's four children, John P. Lapeyrouse, his wife Camille, and their children David Lapeyrouse, Michael Lapeyrouse, and Jeanne Lapeyrouse Clement are current owners of the dealership. Lapeyrouse Motors is a franchised dealer for Chevrolet, Dodge, Jeep, and Chrysler. The dealership also offers pre-owned vehicles, as well as service and parts/body and paint repair. LAPEYROUSE MOTORS LOOKS FORWARD TO THE OPPORTUNITY TO ASSIST YOU!
We know your time is valuable. We are sure you will find our site a fast and convenient way to research and find a vehicle that's right for you. If we can be of any assistance while visiting us online, send us an email and we will promptly reply.
Please see the link to our other website below which has information on our other franchised brands!