New Chevrolet Trucks for Sale in Jeanerette, LA
1Dealer Discount applied to everyone.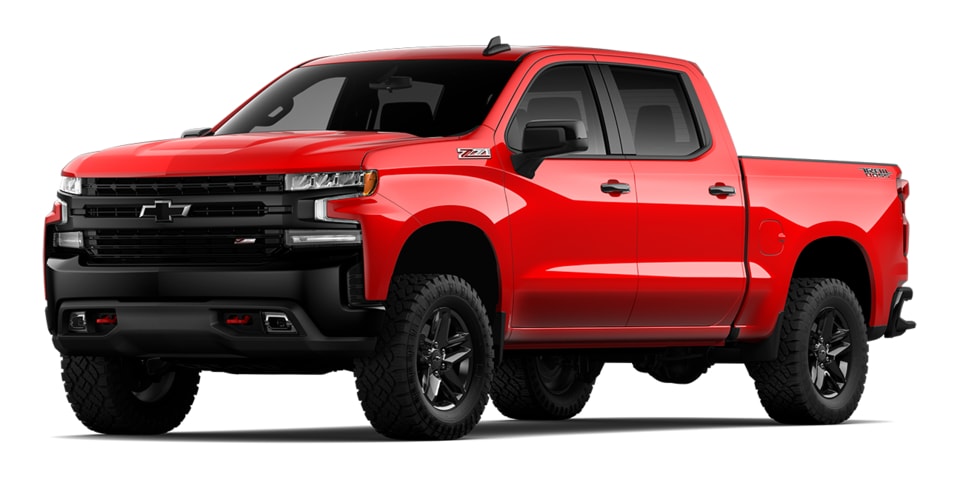 New Chevrolet Trucks for Sale
Chevrolet is popular for producing rugged and reliable trucks at great prices. At Lapeyrouse Chevy, we can tell you all about what each model offers. You can be confident you are getting a truck that will be capable for many years to come. You can also trust that the truck you get will have modern features to make your life easier. You will have an easy time on the streets. Our new Chevy trucks give you a great combination of price and performance. Please visit our Chevrolet dealership soon so our team can help you choose the right truck for your situation.
Chevrolet Colorado
The Chevy Colorado continues to be one of the top-selling entry-level trucks in the industry. It has a maximum trailering capability of 7,000 pounds. It also delivers an EPA-estimated 25 MPG on the highway, making it one of the most efficient vehicles in its class. It is a good option for people who want a beautiful truck to go anywhere.
You get the option of a diesel engine, meaning you can get true efficiency and capability in one package. There are even extra trim levels built purely for performance.
Silverado LTD
The Silverado LTD is the next vehicle up for people who want even more power and capability than the Colorado has to offer. It has advanced safety features to keep you safe as you haul your cargo and equipment around town. It can deliver up to 13,300 pounds of trailering performance. That amount should be enough for even the most challenging jobs imaginable. You'll also have up to 89.1 cubic feet of cargo space and enough seating for four people. You can travel with your friends or co-workers to almost anywhere you want to go.
Chevrolet enhanced the Silverado LTD's trailering performance with plenty of technological innovations to make hauling and towing easier. It even has advanced diagnostic features to ensure that your truck is always working as optimally as possible.
Silverado HD
You will love how well the Silverado HD performs in challenging situations. This pickup is one of the most rugged and reliable trucks available, and it offers up to 36,000 pounds of maximum trailering performance. You get 7,442 pounds of available payload capability as well. That capability is not something you find on most trucks. That performance comes backed up by its flexible tailgate and other innovative technological features.
The crew cab is roomy and comfortable, making long drives across the country fun and exciting. You can also depend on the plethora of entertainment options to make your life easier. Our customers can choose a V8 gas engine or a V8 diesel turbo to power their Chevrolet truck. The diesel option can hook up to a 10-speed automatic transmission. This setup is the version that gives you the best performance possible.
Silverado
The latest Silverado is a great option for people who want something even more than before. It includes many new technological innovations. For example, you get a 13.4-inch diagonal infotainment touchscreen system and a 12.3-inch diagonal driver information center. These digital clusters provide you with all the information you need to ensure your truck is working as optimally as possible. You also get plenty of new driver assistance technologies to automate some of the pain of driving in heavy traffic.
How Can We Help?